You never know what you are up against until you pull the valve cover and the head.  1 stuck valve could have been a bent pushrod.  1 stuck piston could have been a bent connecting rod.
So the CA is in the shop and coming apart.  So far:
Antifreeze under valve cover,
Wrong head bolts (they had been replaced with studs)
Stuck Valve
Stuck piston
Loose sleeve (actually from my hitting the starter after the head was off)
So… At least rebuild head, and clean up bore on 1 piston.  Possibly have to rebuild engine.  Won't know until I pull oil pan and inspect rods and mains.  Oh, by the way, this engine was previously rebuilt.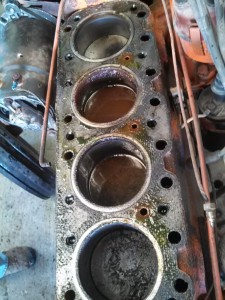 I'm tired.  I think I will call it a day and speak with the customer tomorrow.
JimD